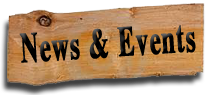 NOTICE
This is the ONLY official website for Durham Township and reflects the official views of the township.
The ONLY official FaceBook page for Durham Township is:
www.facebook.com/durhamtownship/
---
---
---
---
---
Help save your tax dollars!
Please keep your roadside grass & bushes trimmed back at least 4' from the paved roadway or we will do it for you!!
---
Reminder:  Permits are required for all pools, new construction/additions, change in use, garden sheds, electric, plumbing, decks, etc. Two (2) acres of cleared /fenced pasture required for one (1) horse.  One (1) additional acre for each additional horse. U&O required for all NEW residential and ALL commercial. Call the zoning office at
610-346-9211 for info.
---
FIREHOUSE  Breakfast
Sunday, February 18th, order from menu. Community Fire Co. #1 on Delaware Road in Riegelsville.  8AM-NOON
---
FEBRUARY RECYCLE DAY 
The next recycling day will be Saturday, February 3rd. 9AM-NOON. Items accepted include; cardboard, paper, metal & aluminum cans and glass & plastic containers only.  
Durham Township, which is located at the extreme northeastern end of Bucks County Pennsylvania, along the Delaware River, contains approximately 6,410 acres (9 square miles), is one of the smallest of 31 townships into which Bucks County is divided. It is bounded by Williams Township, Northampton County on the north and the Delaware River on the east, Nockamixon Township to the south, and Springfield Township on the west.
Even though there were many settlers in Durham in the early 1700's it was not until June 3, 1775 that it was organized into a township. Prior to that date the entire area was owned by the Durham Iron Company. In 1726 the company erected a blast furnace in what is presently the Village of Durham, located along Cooks Creek in Durham. The site is now occupied by the Durham Grist Mill, a historical site on the National Historic Register, now owned by the township.
Durham Township also holds the distinction of being the location that Robert Durham built the first Durham Boat, the boat that was used by George Washington to cross the Delaware River.
Office Hours
M-F 8am to 12pm - walk-in
1pm to 4pm - Call Ahead